By Plant Growth Core Lab team and Davide Zanon
The Plant Growth Core Lab knows it. That's why its mission is to create sustainable farming solutions for Saudi Arabia's farmers. Its studies cover many fields, such as optimizing the amount and type of water used in irrigation or creating hybrid seeds that can endure arid climates.
While KAUST's students and academics study different environmental conditions' impact on crops, the smart farm's staff recreates these conditions to help researchers test their conclusions. Today, we are here to introduce you to one of them.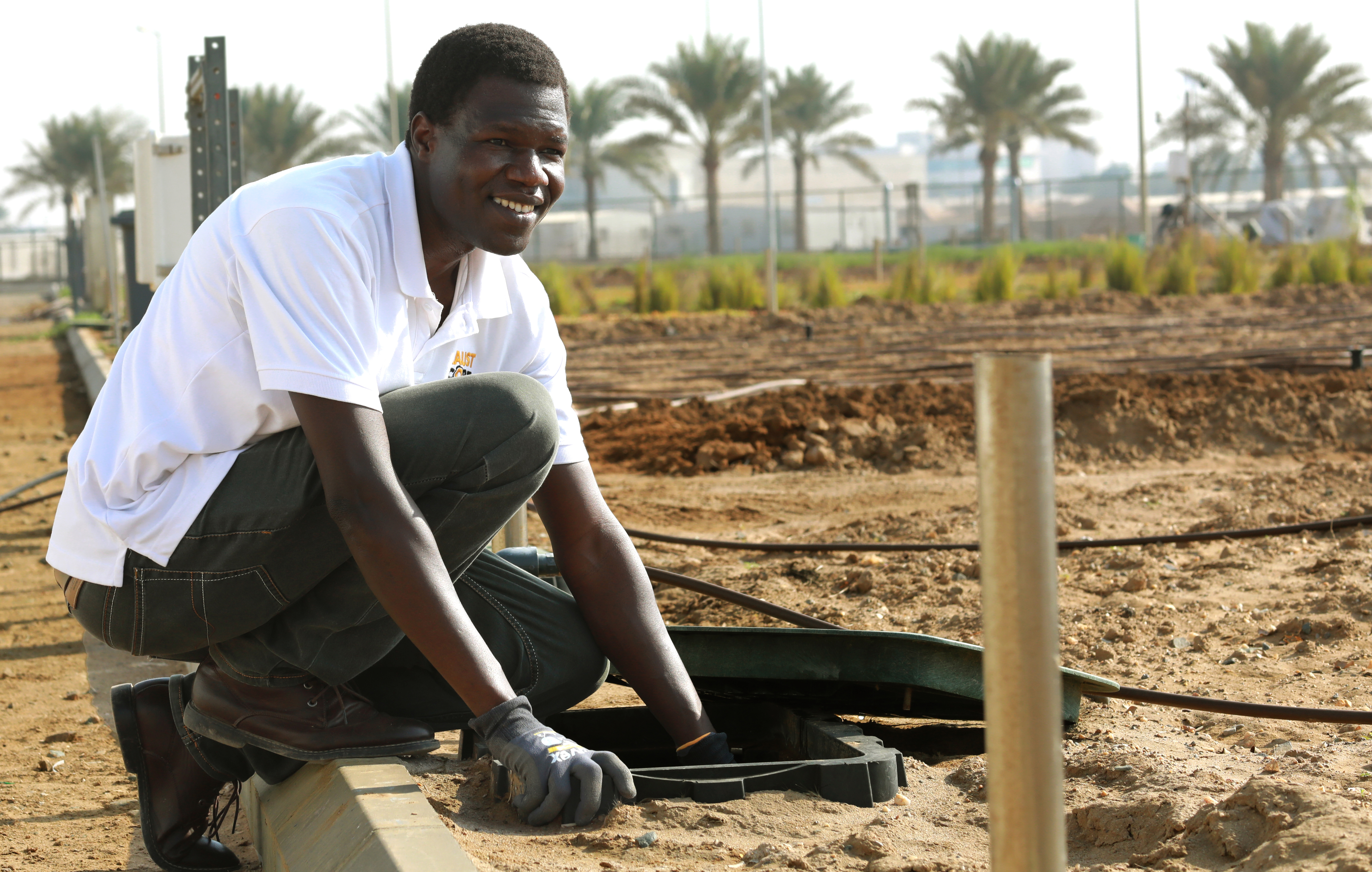 Walter Opio, a Gulu University graduate in Agriculture from Uganda, is KAUST's new Open Field Technician. With his smile, kindness and charisma, Walter is an excellent asset to KAUST, as he and his colleagues ensure that the instruments and fields meet the clients' requests.
"One of my skills is promoting collaboration," says Walter. "It's interesting to meet different characters and working methods. I really enjoy putting myself in other people's shoes and grasp how the person in front of me wants to be treated."
Tackling hungry birds and the hot weather
Walter has great responsibility on his shoulder. His job goes from managing the facility from behind his desk to getting his hands dirty on the fields. The physical part is his favourite as it focuses on preparing the soil, covering the plants, connecting the irrigation system or setting the mix of saline waters.
But his work doesn't come without challenges! Besides aligning with various people's goals and using different technologies, Walter must also face Saudi Arabia's harsh weather.
"Sometimes it's just too hot to work," says Walter. "We can only resume our activities once it gets cooler. Other times, we must guard the fields from local birds after work. Since the food is scarce in the area, we place bird nets around edible crops to preserve our experiments."
Give the community a hand
What makes Walter proud of working at KAUST is assisting experimental research, constantly learning new technologies, and helping the community. The multidisciplinary skills he gained from his previous jobs in the farming industry, help him face many different challenges with a focus on the bigger picture: helping the community grow food.
"I wish to develop different skills and learn new technologies here at KAUST," says Walter. "Yet, my biggest joy is knowing that I'm giving something back to the community. Everyone needs food, and I'm happy that our lab is supporting a fundamental human right."
Are you interested in knowing more about the Plant Growth Core Lab? Then follow this link.