By Plant Growth Core Lab team and Davide Zanon
KAUST's new smart farm has two sides.
From the outside, it looks like a regular crop field. But it's deeper — beneath its surface — that a high-tech grid turns it into a state-of-the-art site for agricultural research.
The smart farm is crossed underground by Ethernet connections and power supplies. Such an infrastructure permits researchers to plug in any kind of sensor to track variables like the soil's water content, salinity or temperature. KAUST's supercomputer uses this smart, remote and intensive data collection to gather deeper insights into how each variable affects food production. All these items aid KAUST to bring machine learning to crop growth.
But it doesn't stop there!
Each of its ten fields is built like a bathtub. They are separate sealed units where water, salt and nutrients can only be absorbed by the plants or leave through the drainage system. This design is optimal to prevent leakages that hinder measurements. On top of that, researchers can trace any type of water, tracer or chemical applied throughout the drainage outlet while using different water quality through four separate irrigation lines. These feats translate into high flexibility and diversity for present and future research projects.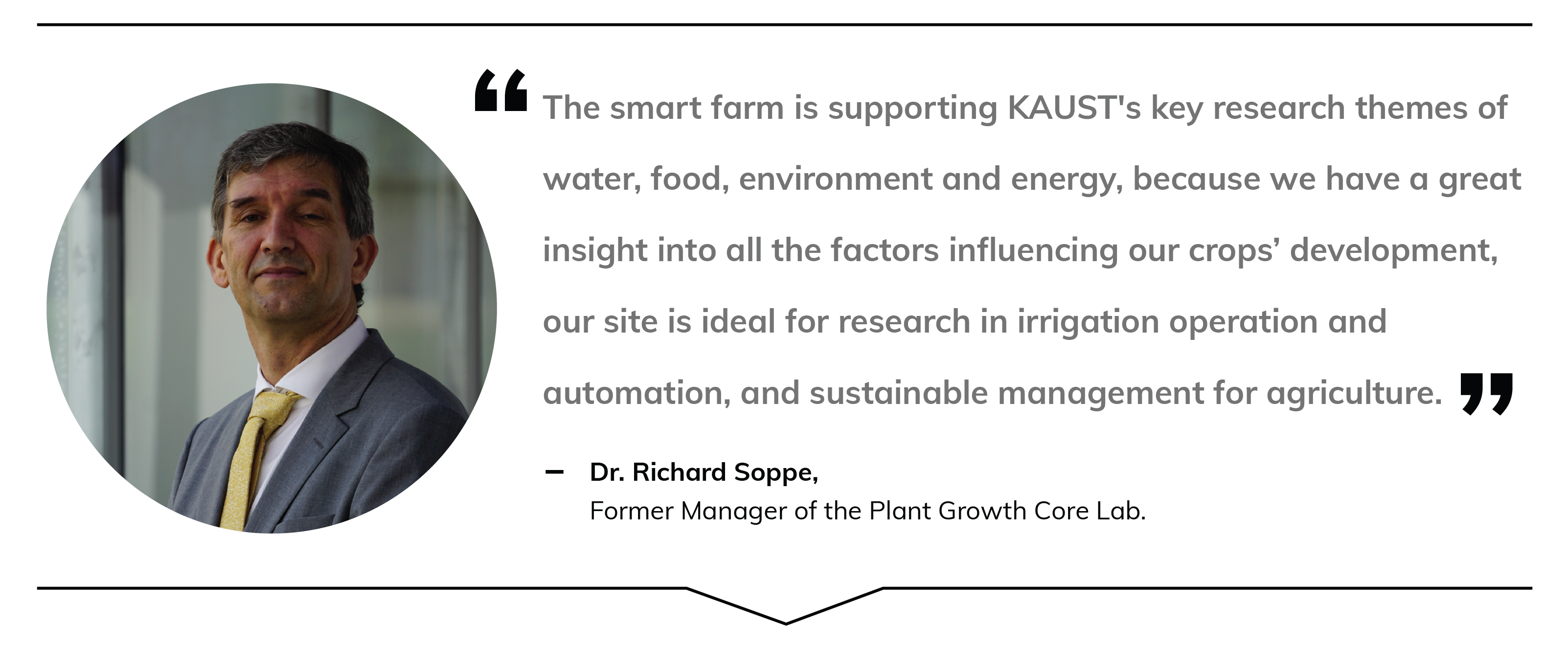 A hub for knowledge
Different projects have taken place within the smart farm since its opening. What has helped researchers mostly is the smart data monitoring system, as it allows them to modify water, salt and nutrient levels according to their needs or the changing environmental conditions.
In addition, the supercomputer aids researchers to create advanced data analysis and simulate different water and salt management scenarios. These simulations not only advance knowledge in the field, but also promote collaboration inside and outside KAUST.
"Agriculture is more of a theme than a research discipline," says Soppe. "By bringing science and technology together from multiple disciplines, we can broaden our knowledge on crops as well as creating the perfect data set for an AI type of approach in agriculture. Moreover, given the field's flexibility, I believe that our smart farm can become a knowledge hub for agriculture under dry conditions."
Promoting agriculture in arid climates
The main obstacle for agriculture in dry regions boils down to managing water and salt for food production. Water scarcity in Saudi Arabia limits agriculture to two options. The first is groundwater, which is low in salt but takes time to recharge. The second is seawater, which is plentiful but must be desalinated. Research at KAUST's core labs aims to find the sweet spot where economically viable solutions for food production intertwine with sustainable water management systems for local agriculture.
"We want to work with the Kingdom's universities, farming communities and ministries to develop solutions in line with the Saudi 2030 vision," says Soppe. "Our ambition with this site is to create a living lab where multiple research themes work together to create achievable and sustainable agriculture for Saudi Arabia."
Would you like to know more about the Plant Growth Core Lab? Then follow this link or watch the lab's video.