The Nanofabrication Core Lab (NCL) welcomed its new team lead scientist for its cleanroom operations, Dr. Menouer Saidani, on May 15. His primary responsibilities are supervising the cleanroom staff and managing more than 80 instruments for advanced nanofabrication. His expertise will also help identify new equipment and technologies for the NCL in the future along with assuring the necessary training for staff and users to operate these instruments. An expert in microengineering and nanofabrication, Dr. Saidani brings more than a decade of experience managing nanofabrication laboratories in Canada and Japan at national universities.


Born and raised in Algeria, Dr. Saidani is the only one of his eight siblings who earned a university degree. After earning his Ph.D. at the EPFL in Lausanne, Switzerland, the polyglot tried a startup before moving to the German-speaking side of the country to join the Paul Scherer Institute for a postdoc position. During that period, he acquired his permanent residency for Canada, which convinced him to leave for the Great White North even though he was unemployed and father of a young child.
That boldness, he said, is part of his innate personality.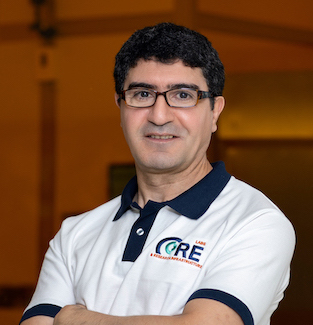 "It is a spirit of exploration. This is probably why I am a scientist."
Even though "lithography has always and everywhere been part of my job," it was at the Université du Québec à Montréal (UQAM) in Canada, where Dr. Saidini first managed a nanofabrication lab. Those responsibilities grew when he joined the Okinawa Institute of Technology in Japan and learned many of the 3D lithography technologies he plans to advance at the NCL, including 2-photon polymerization techniques. His decision to come to KAUST was based on the NCL offering him new growth and opportunities in his career.
"The team is bigger, the cleanroom is bigger, and the challenges are bigger," he said.
His enthusiasm for joining the NCL and Core Labs are shared by his new colleagues.
"Seeing his professional accomplishments in multiple countries and cultures, we consider ourselves lucky that someone like Menouer is joining our team," said NCL Director Kenneth Kennedy.
The NCL provides state-of-the-art equipment, services, and consulting for the nanofabrication needs of researchers at KAUST, the Kingdom, and around the world.